Quarterly Roundup July-Sept
25th October 2022
Time flies at Nu Image. We've been hustling, building websites, climbing the rankings and moving furniture. And yep, just like that, it's time for another quarterly overview, and wow, this one has really crept up on us fast!
Here's the highlights folks:
We've moved on out:
After lots of planning, organising and a little do it yourself reno, we have finally moved into our new studio on Thorpe Road, Norwich! *pops party popper*. After a month of our new space we have fully adjusted to city life (and a cheeky Deliveroo most Fridays).
We'd like to thank Ian, Nicole and Jess for all their hard work over the past 6 months to give the new studio the Nu Image vibe – it already feels like home… We don't want to give away too much just yet so read more about our City move or come down and see it yourself if you haven't already! Our address is in our website footer. 😉
Painting the town red:
September was a pretty big month for us. Not only did we have a swanky office upgrade, we also celebrated our 15th anniversary. And of course there was no better way to ring in the milestone than by throwing a big – fat – (red themed) party! Nu Image style. The evening was an amazing opportunity to get our glad rags on, share a few *cheers* with our clients, old and new, and of course flaunt our favourite colour.
A massive thank you to the Sainsbury Centre for hosting our event, the night was full of splashes of red wherever and whoever you looked at. It is safe to say that the night was one to remember and there were many sore heads Saturday morning. Ours included!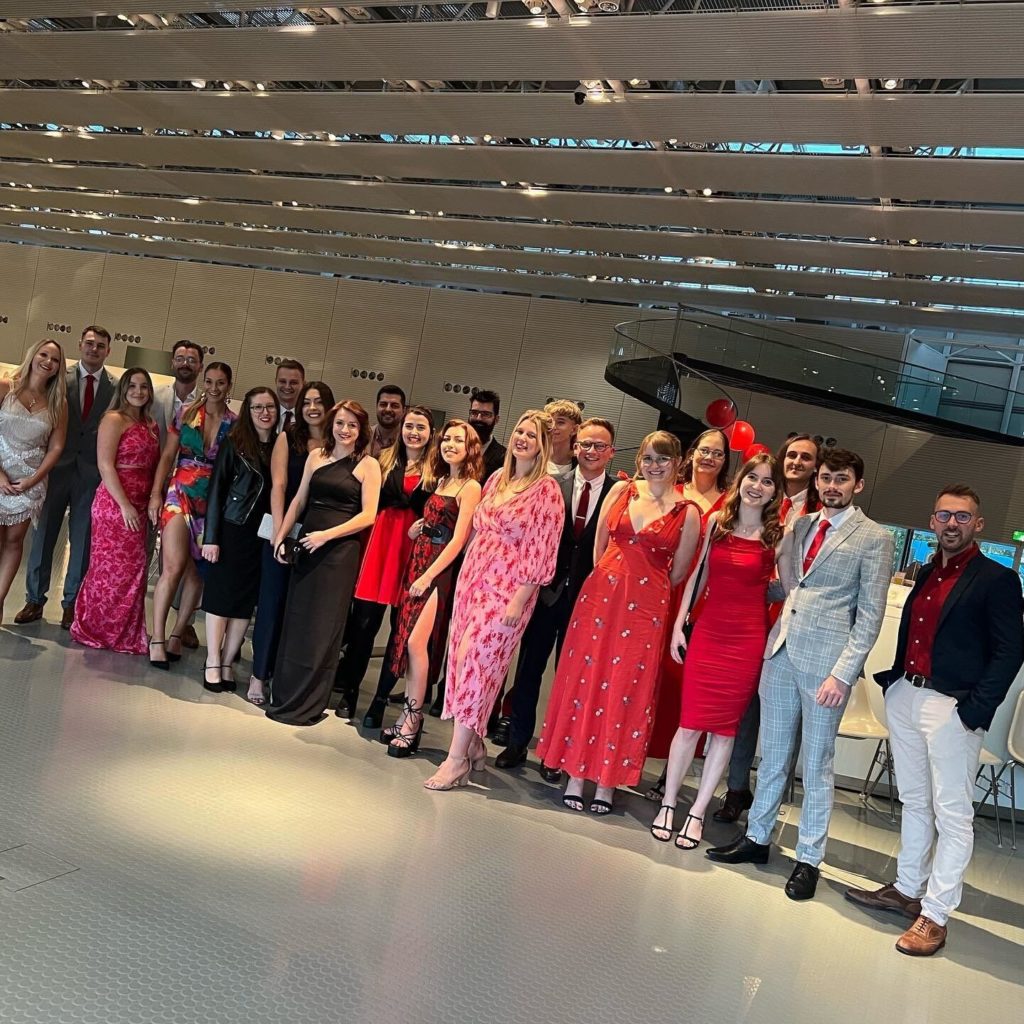 To new partnerships 🥂:
Our clients continually open our eyes to a number of different opportunities. One of our digital clients, PSH Environmental, recently introduced us to The Norfolk Wildlife Trust (NWT) whom we are excited to have now partnered with.
February marked the beginning of their 'Clean Up to Green Up' scheme which saw them partner with the NWT to improve woodland biodiversity in Norfolk. This amazing cause works to support the restoration of a neglected part of woodland in a field adjacent to Foxley Wood. Interested in finding out more? Read all about it!
Sharing words of wisdom:
Social exec, Char was out and about, this time at GCB recruitment. Char sat the team down for one of her bespoke Linkedin workshops to help the team make the most out of their personal profiles. It was a greatly productive morning for Char and the team as they donned their Linkedin hats and got to work on page optimisation, content ideas and a few little activities along the way. Their business account is in safe hands, but there's no end to the possibilities that a well optimised personal account can bring to your business. 
Char understands how important it is for a company to communicate a tight knitted front when it comes to Linkedin. Yes, your individual profile is yours to do as you please, but remember, it ain't as fluffy as Facebook, it's a useful business platform and marketing tool! When your personal Linkedin account is closely connected to your business, reputation is everything. With Char's guidance and training, the GCB team are now fully equipped to operate the intricacies of a strong Linkedin social presence in line with their content strategy managed by Char.
Going full circle:
Recently, we've had the pleasure of working with the lovely Amy and Steven to help them with a web build to celebrate the rebranding of their home delivery cocktail service, Doxi. This project is one very close to our hearts because Amy started her journey here with us, at Nu Image as one of our Digital Marketing Executives. Her bubbly energy and love for all things food and drink (lunch was always her favourite topic of conversation in the studio) meant that when she decided to go full-time with her mobile bars and cocktail delivery service we knew from the get go that she was going to smash it!
Since starting her business venture, their mobile bars have been hired all across Norfolk for weddings and parties, off to a flying start. Then, like most of us, when the pandemic hit, business unfortunately became a little quiet. But no stress, as usual Amy was led by her creative instincts and they got to work on phase two of their business, the first developments of the brand we know and love today, Doxi. They decided to start selling their cocktails online, enabling customers to still enjoy the luxury of cocktail at home when there wasn't much else to do. After heaps of success, Amy and Steven felt it was time for a rebrand and we were overjoyed to welcome her back with open arms… but this time as a client! We're extremely proud of this website and our dear friend Amy. Here's a quick preview, but you can read more about it via our portfolio.
Collaborative creativity:
Although our team is spread between different departments, one thing we love doing is putting our brains together on projects and seeing what wild and wonderful ideas we can come up with. Working collaboratively and utilising everyone's strengths and passions is something we encourage when working on a project. Garden Centre Overstrand's new website and branding is a recent addition to our creative portfolio that showcases just how special and rewarding working with a creativity agency like us can be. (We're so proud of our people, can you tell?)
The goal was to modernise GCO's existing brand using a more rustic and minimalistic approach. Jess, our very own studio assistant and part time illustrator, created a beautiful rendition of sea lavender for the centre of the logo and Jordan, our in-house designer used Jess' illustrations to digitise a final logo design. We then passed the project over to our developer Sam, whose clever coding skills pulled everything together into a fully functional website and, finally, our digital marketing executive (and copy curator) PJ put the cherry on top with a flourish of beautifully written copy! Ahh, isn't it just lovely when a plan comes together? Check out the website for yourself or learn a little more about how we grew GCO together.
And all that jazz:
It's safe to say that we enjoy a night out here at Nu Image but it might surprise you to hear they don't all happen on a Friday night until the early hours of the morning. Last month we went to see Chicago at the Norwich Theatre Royal (NTR) for a night of flapper dresses, jazz and murderous women. The days leading up to the show consisted of the Chicago playlist on repeat and it's safe to say the hype was worth it, we were all starstruck! As lovers of the theatre, we have recently renewed our partnership with NTR, we're looking forward to the next show… rumour has it it's The Panto!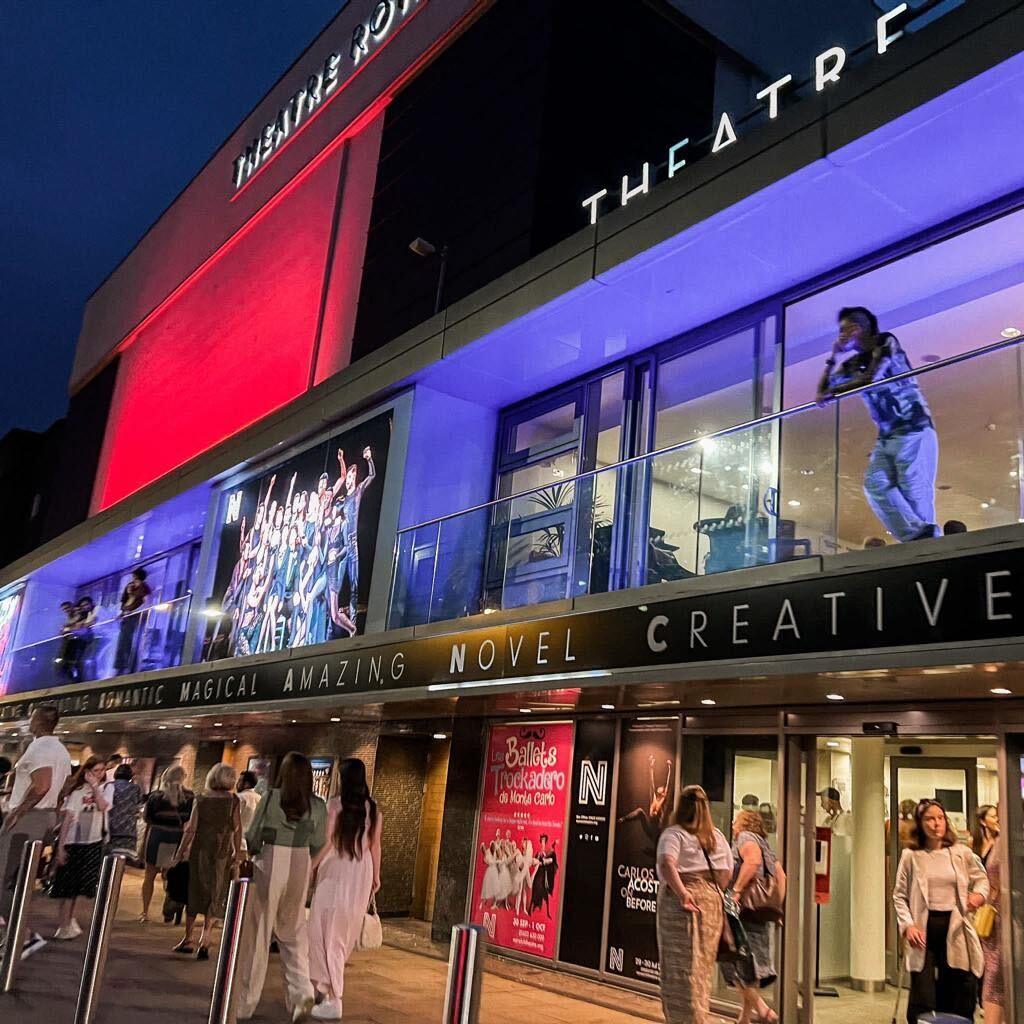 Rockthorn's new homepage:
Whilst we've been busy welcoming lots of new projects through our doors, we've also been busy giving existing brands a little face lift. Rockthorn have been digging their way through the plant hire industry for a little over a year now, so we thought it was time to ramp things up…
Starting with the opening of the homepage, let's just say Blockbuster met plant hire… We're pretty obsessed with the cinematic video that creates a Rockthorn journey that customers will certainly remember.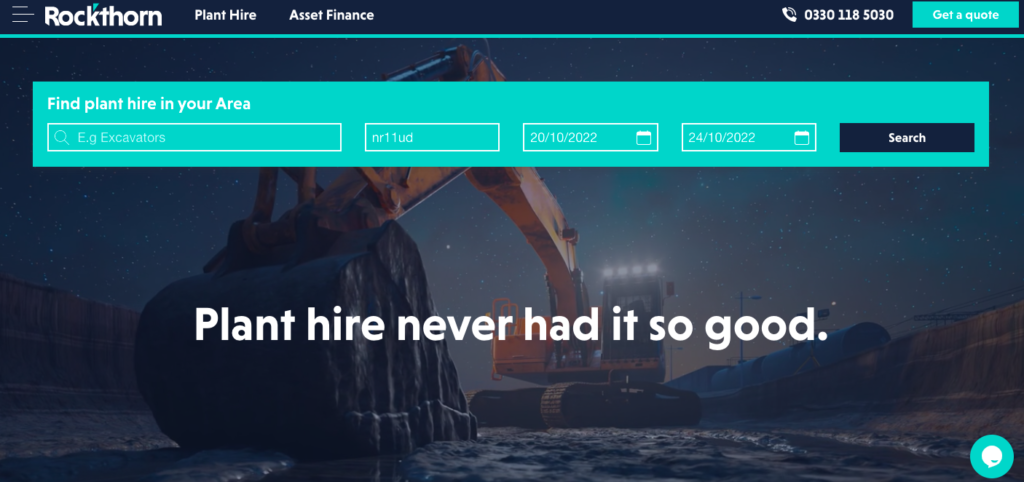 At Nu Image, we like to keep things as simple as possible. Reviewing and redesigning the conversion journey was something that our digital team (with account handler Erin behind the wheel) could sink their teeth into, and as a result, a perfectly simplified conversion process was formed. We're really diggin' this.
With one polished website and one very happy client, we're thrilled with the final result and can't wait to see what the future holds for Rockthorn.
That's all for this quarters' round up. It's been an adventure as always. As we brush the dust off our winter coats and prepare for the darker nights, we can't help but wonder what the next couple of months will bring us. Big heating bills, moaning about the clocks going back and last minute Christmas shopping no doubt! Over and out.