Which Social Media Platform Is Best For Your Business?
21st August 2019
At a time where the majority of us live our lives online, it's hard to believe that so many businesses aren't taking the opportunity to join in discussions and connect with new clients through social media. Just imagine a TV channel without any self-promotion… how would you know when the new Peaky Blinders series started and when to plan your recording? Big brands have gained exposure by capturing an audience they know will be paying attention to their content. The same applies for social media, with millions of people scrolling through Instagram, Facebook and Twitter throughout the day. Businesses need to take advantage of their audience when they can – but which social media platform is most beneficial for you?
With a variety of opportunities on social media, it's sometimes difficult to decide which platforms are going to produce the best ROI. Let's start by discussing the biggest players on the field. We're talking Facebook, Instagram and Twitter. Game changers. Deciding on which platform is best for your business to start with depends entirely on your industry. There's no point setting up accounts on any social media platform if your audience isn't using it. You'll be wasting your own time and resources creating content to fall on deaf ears (or eyes, in this case).
To strip each platform back to basics; Twitter is a conversational platform, a place for people to discuss trending topics, news or popular culture; Instagram was created purely for people to share photos, it's an online gallery; Facebook has an element of both, with the ability to post status or update galleries and you'll be able to reach your audience through a whole variety of media… if you have the content. Now, take a step back and look at your business from an outsider's perspective to determine where you should start your social media journey… ok that didn't work so maybe take part in our social media quiz below to find out which platform is your perfect match!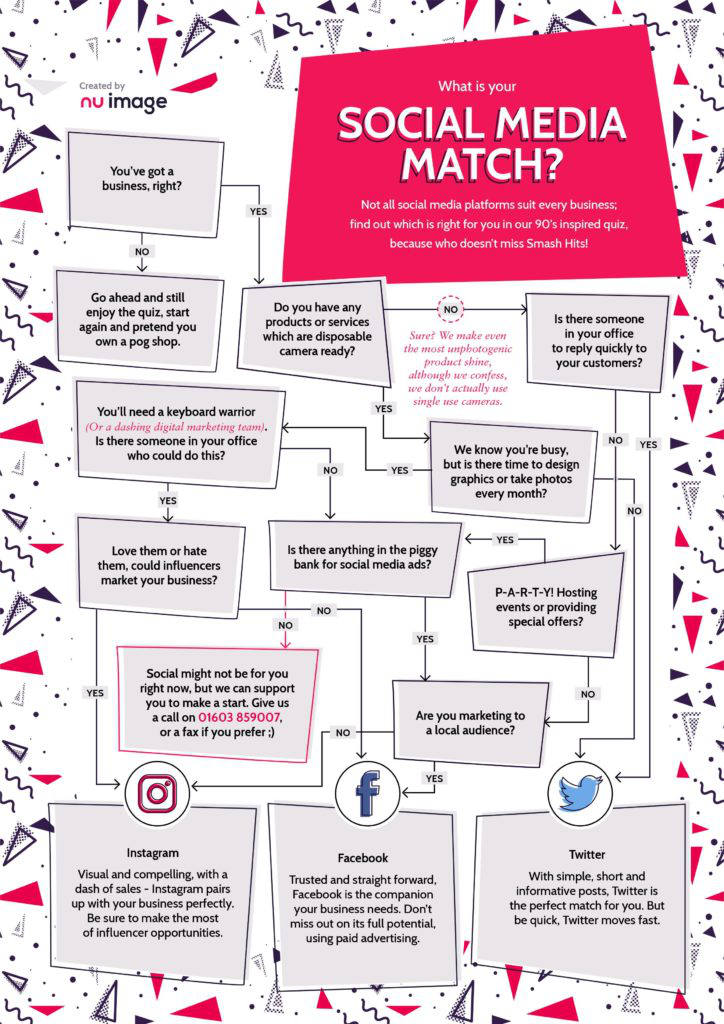 Now that you've found the platform you'd like to couple up with, you need to work out how you will manage this new relationship. Once you've mastered one, you might want to consider tackling another one. You'd certainly make more of an impact by sharing your content on multiple platforms providing it's relevant. There are plenty more platforms to consider, such as LinkedIn, Youtube, TikTok and Snapchat to name a few.
If this all sounds a little daunting, then don't worry. It just so happens that Nu Image has a dedicated in-house social media marketing team with all of the skills required to help kick start your new love affair. Call us on 01603 859 007 to discuss social media or email us on hello@nuimage.co.uk where someone will get back to you.