Wait… websites have a best before end?
22nd March 2023
I hate to break it to you, but websites aren't like Twinkies, they do in fact have a best before end date.

You know when you come across a website that doesn't adjust to your screen size, and looks like it's from the 90s? That's due to it being designed and developed before responsive web design was a consideration.
Back in the day viewing on a mobile device simply wasn't possible, yikes, the first Iphone actually hit the market the same year that we were established, 2007. As devices developed in size and ability, websites had to follow suit. Gone were the business card style pages and in true Stars In Their Eyes fashion, responsive web design emerged from the sliding doors. It's rare nowadays to fall upon a 90s throwback site whilst searching for a service, primarily due to Google choosing to favour sites that work across all mediums and pushing outdated sites down the rankings.
As with all technology, websites have continued to advance at a fair rate, meaning it is no longer enough to simply have a website that is mobile friendly.
So, let's find out, has your website reached its best before date?
First up – when was your site first built?
Oh, what's that? Your website was only fairly recently launched? Well, hold on to your hats, because time sneaks up on you. Did you know Frozen came out 10 years ago? Yep, let that sink in. The final Harry Potter film came out a whopping 12 years ago, the same year as Gangnam Style hit our screens. Best yet…shall we take a look at how our own website looked 10 years ago?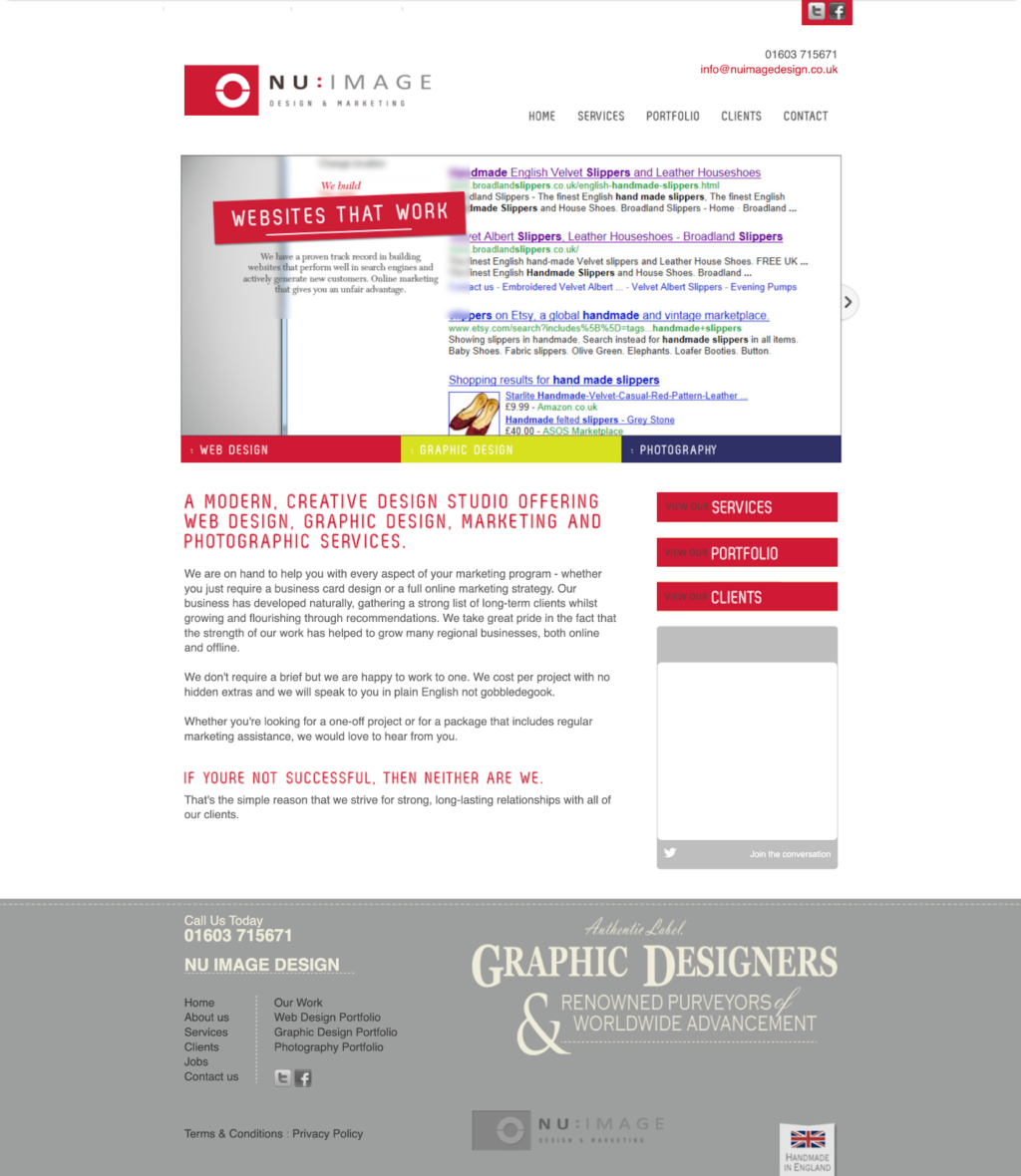 Woah, talk about a glow up!
Secondly – Has it been well looked after since?
A site that is not well looked after will fall down way before one that has had TLC. Has it been in the safe hands of a digital marketing expert? If your site has been nourished and adapted over the years with the user in mind, you will get several strong years of performance from your website. It's kind of like ensuring your car has a regular service. At the other end of the scale, a website that is launched and left entirely neglected is unlikely to make it's 3rd birthday in a healthy state, and it's certainly never going to be competitive in the rankings.

Can you edit the content on your website?
Most websites built in the last 5 years are content managed, meaning they have an admin system where you can login and easily change content. If you can't easily update the copy and images on your website, it may be time to look at purchasing a new one. It will make your life easier by helping your team to maintain content, which in turn will keep Google happy by providing fresh content and updates.

A good framework makes the dream work.
What framework is your website using? By this, we mean what system does it use? Is it WordPress, Squarespace, GoDaddy, Wix, bespoke? If you're not sure, a handy chrome extension called "Wappalyzer" will tell you what it's built with. We hate to break it to you, but if you answered anything above except WordPress or bespoke, it's probably time for an update. Now, we're not hating on the others, it's just they can't give you the best from your website; they tend to use pre-built themes which use loads of unnecessary code, cluttering your website and limiting how you can make it look. That's why we think the best way to go is building a bespoke website using a framework such as WordPress or Laravel. That way, you get a website that looks exactly how you want, it's content managed and geared up to give you the very best performance.
Does it have a blog?
Ok a little confession here, as a bunch of keen blog writers here at Nu Image we may be a little biassed, but we love creating insightful content and news articles for websites. Including a blog on your website is a great way to keep content fresh and shows Google that your website is active and gives it new information to crawl. It's also a great way to connect with your customers, demonstrating to users that you are keeping up with industry updates and a great way to showcase your work and expertise.
Call me? Maybe.
Can people easily click to get in touch? Be it a clickable phone number, email or contact form, how easily is it for people to get in touch with you? More and more people want a way to get in touch and fast. If you don't offer that in an accessible way (for example a phone number that they have to copy and paste into their phone or manually type in) then they will likely just go elsewhere.
Speaking of phones, how does your website look on mobile? If the answer is one that you're embarrassed to admit to, then perhaps that best before date has already passed.
Can you keep up with the competition?
Sometimes, it's just a matter of taking a look around at the competition. Yes, the noughties may be back in fashion, but not when it comes to your website. Has one of your biggest competitors just rolled out an all singing, all dancing new website?

If someone is doing market research surrounding your product or service, the website that will stay in their mind is going to be the one which offers them the correct information, a clear user journey and most importantly, a clear conversion journey.

With this in mind, does your website have landing pages for each of your key services? Consider, do these offer all of the above?
So when will my website need replacing?
A new website is an investment, but as we have covered in this article, the better it is looked after the more chance you have of extending its working life. In our experience, these are the expected timeframes we would expect a website to last;

Bespoke website, well maintained with digital marketing – up to 10 years
Bespoke site, content occasionally updated – up to 5 years
Launched and left to become stagnant – 2 years maximum. Although in truth, it's unlikely to ever perform to its full potential.

If you're unsure whether your website needs replacing or updating, then why not get in touch with us for a free digital audit? We'll let you know if your website is past its expiration date, and if it is, we can help you create a new one. You'll be the one everyone is trying to beat in no time at all.
By the way, spoiler alert, Twinkies do expire. (Zombieland, 2009).